Back in 1913 there was a brewery called Medicine Hat Brewing Co. It lasted until 1920. A second incarnation was attempted between 1925 and 1927 but ultimately failed. The city's third iteration of Medicine Hat Brewing opened its doors on December 10, 2016 – 103 years after the first attempt. (For the record, Medicine Hat was also home to Alberta's first brewery ever – Tom Ireland's Saskatchewan Brewery which opened in 1882, long before there was an Alberta).
The newest Medicine Hat Brewing is the project of Warren Vancuren and his family. Vancuren is a retired oil and gas businessman who has operated a number of servicing companies over the years. He had thought he had retired a few years back when circumstance forced him and his wife to take over active operations of their most recent company. "We got tired of running an oil servicing business full-time", he says. So they finally sold all of their holdings. But Vancuren wasn't ready to really retire. "I have had success but I didn't want to retire yet, wanted something to do as a family," he says. He and his two sons stumbled onto the idea of opening a brewery. The four of them – Warren, his wife Kathy and sons Kaiden and Brennan are the brains, brawn and sweat behind the brewery.
Why a brewery – in Medicine Hat of all places? "We liked drinking beer so much we decided we should start brewing it," Vancuren jokes. More seriously he says that the time seemed right to open a brewery in the southern Alberta city. This was about 3 to 4 years ago, before he had heard about Hell's Basement and their plans.
"The plan is to get it off the ground, get the boys running it and then the wife and I can do nothing but R&D," he laughs.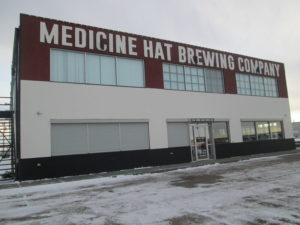 Vancuren knows neither he nor his sons are beer experts, so they scooped up Mitch Dalrymple , a veteran of the Canadian craft beer scene known mostly for his more than a decade as head brewer at Bushwakker Brewpub in Regina to handle recipe design, production and all things beer. For his part, Dalrymple says the timing was right for a change of scenery. Extolling the virtues of Bushwakker, he decided he wanted "one last adventure" in brewing before moving on to other things.
The name of the brewery was intentional to link it to the city's past. "To be honest it was my marketing team's idea. I didn't even know there was an old brewery in Medicine Hat until they told me," admits Vancuren. "People really connect with the idea of naming the brewery after the city and its history," he says, acknowledging that the name "comes with a lot of responsibility" to live up to the name.
Part of that is ensuring the beer lives up to the name. Vancuren knows making craft beer in Medicine Hat has its own challenges. "Medicine Hat is a Bud Light, Old Milwaukee city," so he knows the beer needs to balance craft credentials and crossover appeal. Their goal is to "swing people over" to craft beer. Vancuren believes their beer needs to appeal to the "blue collar guys" who work hard and have a deep pride for Medicine Hat.
Currently they have seven beer which will likely be their year-round offerings – although that decision is not yet fully made and things may shift. All the beer are named to have an historical connection with the city. Twin City Lager, which is a name from the original Medicine Hat Brewing to honour the relationship between the Hat and its abutting neighbour Redcliff, is a European Pale Lager. Hatfield Blonde Ale is named after a con-man in the early 1900s who convinced the city he could make it rain. Burnside Blood Orange Ale is the Hatfield with blood orange puree added and named after a prominent businessman in the city's history. Sin Bin Red Ale is named after the nickname for the infamous downtown Assiniboia Hotel (I don't think I need to tell you why), while Industrial Avenue IPA is the location of the original Medicine Hat Brewing. Finally, Saamis Session Ale honours the original indigenous name for the area and Gentlemen's Stout, an oatmeal stout, is named to remember the Cypress Club, a space where early 1900s men could go to relax and do, um, gentleman things (or not).
While the line-up is not fully finalized, Vancuren indicates they are planning on offering a range of seasonals on top of the regular roster. Plus, "we are thinking of a barrel-aged series and hope to do casks and that kind of thing."
The brewery can be a bit hard to find as the street address doesn't reflect where the front door is. I got lost trying to find it and I actually know my way around Medicine Hat. The key is to ignore their Brier Park street address and instead drive along 23 Street NW where the sign will be unmistakable.
Vancuren says their initial plan is just to figure out how to service Medicine Hat and area. But that doesn't mean they don't have bigger plans. Within three years or so his hope is that "we will try to get our beer all over Alberta and Saskatchewan. That is our goal."
At the moment they are keg and growler-fills only, but they have their canning line and are working on getting it up and running, meaning they will have packaged product within a few weeks. In the four weeks since their opening the brewery has been "flat out busy" as initial reaction has exceeded expectations.
With an experienced brewer behind the brew paddle and a clear business plan, it seems Medicine Hat Brewing is set to eclipse the success of its 1913 predecessor. It may be opening at an ideal time to achieve that goal.
Be thankful Medicine Hatters. Within a couple of months you now have not one, but two local breweries to appreciate.