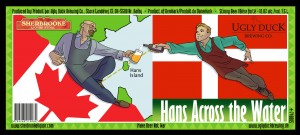 Back in 2012 there was a little-known dispute between Canada and Denmark over a godforsaken rock called Hans Island (read here). And, somehow, Sherbrooke Liquor Store got itself in the middle of it. It commissioned a beer in a (light-hearted) attempt to bring the two sides together. Three years later the dispute is unresolved and the rock remains a contentious piece of granite. As it turns out, the beer is still also around.
Back in 2012 Sherbrooke released a collaboration beer (before collaboration beer were cool) brewed by upstart Danish Brewery Ugly Duck Brewing. It was an exclusive for Sherbrooke Liquor, which is a pretty cool thought. They called it Hans Across the Water.
The beer was a pretty intense thing. An imperial vanilla coffee porter, clocking in at 11% alcohol. And in a 1.5 litre bottle, too boot, meaning it is something of an intimidating beer. Plus it had the single most infuriating seal ever made. It had a short cork that was basically impossible to remove by hand. Unbelievably frustrating.
You can read my original review of the beer here.
There are bottles of Hans Across the Water still available at Sherbrooke, and with their original irritating cork.
Just before Xmas, the owners of Sherbrooke asked me to take a bottle home and give it a try. Their primary concern was that the beer was still fit for consumption, and therefore sale. But they were also interested in my take on how the beer aged.
I wasn't that concerned about their first worry – 11% beer are going to make it more than three years. But I was happy to evaluate the beer for their second question.
The first time I found the beer interesting. It seemed more stout-like than a porter, but it had some interesting, complex flavours. I liked its cocoa and dark fruit character but lamented its large volume.
After three years, I am impressed at how much of the original descriptors remain valid. I still get a dark fruit, raisin, chocolate and a bit of wood. These are accented by a subtle chocolate character. More sherry and earthiness come through. The coffee has disappeared as has the vanilla qualities.  It seems more like an imperial porter now than it did three years ago. The oxidation is starting to creep in but at this stage is complementing the flavours rather than overtaking. Not sure about three years from now.
In a way the beer has leveled out. No one feature stands out. The aging has softened the alcohol hit but has also taken away some of the more interesting edges to the beer. While it seems more in line with its style now than it did before, it also seems to have lost some of the qualities that made it interesting three years ago.
Still, it is a strong, flavourful beer. I remain befuddled by the choice of bottle size (1.5 litres, which equates to 6 pints of regular beer) and that damned cork still has me cursing (I had to basically disintegrate it this time). But as a gift or a unique social bottle it could work quite nicely.
Plus you can say you contributed to resolving a decades long fight between two countries. Sort of.