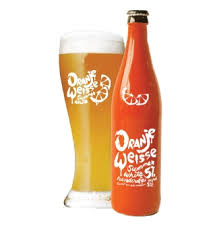 Once in a while an oops turns out okay. Case in point is my recent experience with Amsterdam Brewing's Oranje Weisse. Toronto's oldest craft brewery recently started shipping some of its wares to Alberta. I picked up a couple of things out of curiousity, including a bottle of their witbier, Oranje Weisse, thinking it might make a good review for one of my columns.
The evening I planned on writing the review I settled in, opened the bright orange bottle and dutifully poured the beer into a glass. The appearance, medium straw with a rocky white head, was totally expected. The aroma started off wit-like as well, with a soft wheat and orange-citrus sweetness. However, I also detected an earthy, pungent tang lingering around the fringes of the aroma. That was odd.
My suspicions were confirmed upon the first sip. Running alongside a pretty traditional wit flavour was the tell-tale barnyard, musty, sweaty earthiness that only comes from Brettanomyces. But wasn't this supposed to be a witbier? I was confused.Brett doesn't belong in a witbier, as it is the wild critter reserved for lambics and some Belgian strongs (e.g., Orval). Was it infected? Was this intentional?
I emailed Torontonian and Canada's best beer news source, Greg Clow of Canadian Beer News, but he hadn't heard any talk about it one way or another. So I did I decided to contact the brewery. Head Brewer Kevin Clark got back to me right away and explained the situation. He admitted the Brett was a contamination – likely due to some cross contamination of some experimenting they were doing with Brett. They discovered the problem while the batch was still in the brewery. Rather than dump it they held on to it so see what would happen.
A wise decision, it turns out. After a few weeks the brewing staff really started to appreciate the qualities the Brett added to the beer. They decided to bottle the small batch and sell it. To prevent confusion in the home Ontario market, who are quite familiar with the original version, they shipped it to Alberta to see how customers reacted.
A fascinating story. And one that turned what would have been a standard review into a bit of an exploration in brewing process. I did proceed with the review - which you can read on the Vue Weekly website here.
As for the beer, I concur with Amsterdam's brewing staff. The addition of the earthy, musty, barnyard Brett added a second dimension to the beer, complementing the sweet orange citrus quite well. It turned what might have been an ordinary witbier (I haven't tasted the original, so can't make claims about it) into something truly unique and fascinating.
Clark tells me they intend on releasing an intentional batch of Brett-laced Oranje Weisse next year, with its own label to make that clearer. Good news all around, that. I recommend picking some up either now in Alberta or next year around the country where Amsterdam sells its product.