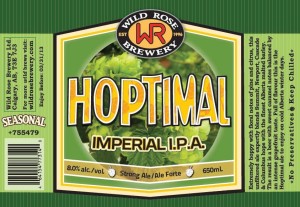 While in general January is a slow month for beer in Canada, there are a few new beer hitting store shelves and pub tap lines in the coming weeks. I thought I might as well offer a quick run-down of those releases (and catch up on a few that I missed), in not particular order.
Alley Kat: They may be the busiest of the prairie breweries at the moment. On January 21 they release the latest in their Dragon Series – Plaid Dragon. Why plaid, you ask? Because, in a departure from the previous versions, which were all hopped with a single variety, this one uses ALL of the varieties used in the previous versions. Sounds like it might be a good one! Then on January 30, the latest Big Bottle comes out – St. Portersburg Baltic Porter. I also here rumours that an oak-aged version of Darn Tartan might be floating around soon, in limited quantities I suspect.
Wild Rose: The Calgary mainstay is remarkably consistent in the pacing of their seasonals. On the 17th they will be releasing Hoptimal Imperial IPA, which is, obviously, a double IPA, so we can do a little comparisons of Alberta Imperial IPAs.
Paddock Wood: Okay, maybe I was wrong about Alley Kat's busy-ness, as Stephen and gang over in Saskatoon also seem to have a lot on the go. Already available (I missed them) is the 2012/3 version of Maibock and Oaky Loki, their double IPA aged in oak barrels. In February they are saying that they will release another round of Heartstopper, the "hot" chocolate stout (due to some cayenne pepper), and the fourth in the Beer Gods Series, Ninkasi which is an Imperial Pilsner. I am unclear whether the February beer will be released under the Sherbrooke label (as they were before), or if Paddock Wood is going it alone with these beer. I suspect someone out there knows better than I.
Big Rock: The resurgent Calgary brewer is continuing a traditional European approach (following the Saaz Czech Pilsner) with its latest Brewmaster's Edition seasonal – Helles Bock. They are giving it a devil-like marketing angle, including the entertaining 6.66% alcohol content. Official launch parties are scheduled for the 17th in Calgary and 24th in Edmonton.
No word from Half Pints at the moment – but that might be my fault for missing something. I keep hearing that Hog's Head will be releasing its flagship, Hopslayer IPA,  any time now but still no official word on when.