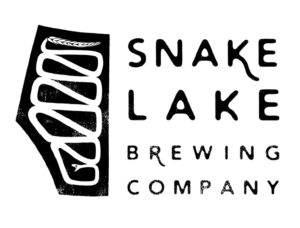 A few days ago I told you about one of Sylvan Lake's upcoming breweries (read here). Today it is the second brewery's turn. Snake Lake Brewing.
Snake Lake is the original name of the town, after what the local indigenous peoples called the area due to the inordinate number of garter snakes found on the lake's shores. "There were so many garter snakes around they had to lay planks down to get to beach," says Snake Lake co-owner Adam Nachbaur. While they quickly realized the name lacked a certain appeal and so changed it to Sylvan Lake, the history of the name has stuck for locals.
Nachbaur and his co-founders, brothers Bill and Dean Beekman, are all from the area, spending much of their adult life in the region. Snake Lake Brewing in many ways is a product of the recent economic downturn. All are tradespeople. Nachbaur is a mechanic and commercial pilot. Bill is instrumentation technician while Dean is a rig hand who worked his way up in the industry.
The recent downturn led the three of them to contemplate other work. "We started looking for something different to do other than trades work," says Nachbaur. "Originally we started out with the idea of a homebrewing equipment store, with a storefront in Sylvan and an online store," he says. "It slowly snowballed into 'why don't we just join the trend and try opening a brewery'."
This revelation was in February of 2017. The threesome have moved very quickly since. In short order they found a building they bought, located at the traffic circle on the edge of town. "It is the old NAPA building right on highway across from Tim Horton's," Nachbaur points out. Sounds good, no?
Construction on the site has been ongoing for weeks with the brewing equipment arriving any day. They are installing a 35-hl system with 8 35-hl fermentaters. With that size they know they need to grow outside the small town of Sylvan Lake. Their plans aren't set yet but they hope to "go as far as we can go," says Nachbaur. "We will easily outgrow Sylvan so will try to get into liquor stores and pubs in town, Red Deer and then down to Calgary." Plans don't yet include distributing through Connect Logistics.
The plan is 355-ml cans along with the usual keg and growler sales. The three owners are homebrewers but have decided to hire a professional brewer from B.C. to be their brewmaster. The initial vision for the beer reflects their tag line: "Hard Working, Easy Drinking". Nachbaur suggest they aren't "out to prove anything but make really good beer that are easy drinking."
"In Sylvan Lake there are not a lot of craft drinkers," Nachbaur suggests. "So we want an entry level craft beer that will get people in drinking beer and venture off after into different styles." They plan to supplement the regular offerings with more adventurous styles to appeal to a more seasoned craft drinker.
"There will be four core beer, at least at first. The pilsner will be our flagship," says Nachbaur. It will be accompanied by a porter, a red ale, a porter and an IPA "not super high on IBUs but will be a decent sized IPA."
They also hope to give their brewmaster some room to experiment. "We want to give him some room to play, give him the reins to brew what he wants on our [60-litre] pilot system."
The anchor of the business will be a 80-seat tap room with an equal sized patio to fit the summer tourist rush. It will also, the owners hope, anchor the brewery in the community. In five years they hope the brewery will be "a landmark in Sylvan, part of Sylvan and as well known as the [now closed] waterslide," says Nachbaur. "We want to support the town. It is a cool way to be involved with such a wicked place, and that is where it will we hope it will go."
As for Undercurrent Brewing, which I previewed a few days ago, they see them as a perfect complement. "We are building very different models. It is almost kind of cool. People can come to our brewery and  we will say check out Undercurrent while in town. And I suspect they will do the same," says Nachbaur.
They are hoping to open their doors sometime in November, but are "okay with later" if that is what it takes.
Whether it is sooner or later, Alberta beer drinkers will soon be able to slither up to a pint from Snake Lake.