I have mentioned that I did a mini-beer tour last week, hitting Calgary and other points along Highway Two over two days hitting some breweries that have recently opened. In addition to Red Shed (read about that visit here) and my surprise connection with Tool Shed (read here), I hit four new breweries: Annex Ale Project (open about 10 weeks), Zero Issue Brewing (open about 3 weeks), Caravel Brewing (open since April) – all in Calgary – and Siding 14 in Ponoka (open 3 weeks).
It is always interesting hitting a brand new place. The equipment is still shiny, everyone is enthusiastic and the place always has the smell of potential. When talking about breweries just on their first batches of beer, I am careful not to offer too detailed of reviews as I know they will undergo tweaking over the coming months. However, I do think you can tell a lot about a place by tasting their early offerings in terms of their philosophy and approach to beer.
My overall impression of the four newbies? The diversity of models continues to expand. I found four VERY different operations over the two days. Allow me to contextualize each one briefly – in order of my visit.
Annex Ale Project was first. A bright, attractive tasting room in what seems like a tucked away light industrial area. I found out during the visit it is actually quite close to people and other breweries like Banded Peak and Cold Garden, creating a fascinated beer circle in that area of the city (shows what I know about Calgary). It is small scale. The plans are for most of the beer to be sold out of the tasting room in one fashion or another. There is beer passion going on in there. Five beer (plus a sample from the conditioning tank) are available at the moment. Annex offers a range of styles, but all seem to have a signature character. The hefeweizen is made with oats, not wheat, for example (yes, I know it isn't really a weizen then, relax, it is still a weisse). They offer a Bitter with North American hopping. And the conditioning tank sample was a Pineapple Saison. Pineapple is an uncommon brewing ingredient, but I can say it really comes through in the aroma. You get the point.
Zero Issue Brewing has, as most of you know, a comic book and sci-fi theme. The tasting room feature wall is a Donkey Kong matrix and the beer all have distinctly sci-fi names. That is clearly working for them in the early days. The MacDonald brothers tell me of repeated experiences of customers wandering in, ordering a beer and admitting their joint love of comics and craft beer. It seems the MacDonalds have created something of a safe space for craft beer and comic/sci-fi geek to mix. The beer seem to aim for full flavoured without becoming hard to access. A Pilsner, White IPA, IPA and a Pale Ale constitute the starting line-up (subject to change). Each is respectful to the style while offering their own take.
Caravel Brewing was next. Located across the street from the airport in a newly developing industrial area, I admit to finding the location odd. Plus their space is huge. Huge. Did I mention huge? Their plan is to grow into both the brewhouse (30BBL with 6-60BBL fermenters) and the space – they have visions of holding music events and festivals in their space. For the moment they use a fraction of what they have. They had 5 beer on when I arrived. Three, a pilsner, a hefeweizen and an Irish red ale, are their anchors supplemented by a coffee pale ale and a ginger beer at the moment. Their beer had a classic, European feel to them. No fancy hops or tricks; just straightforward flavour true to traditional styles. There is a feel of an appeal to a broader audience with their approach.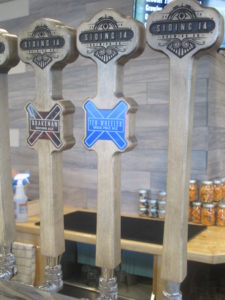 Finally there was Siding 14 in Ponoka. Siding 14's vision is about farm to glass – the ownership group includes a barley farmer and a hop farmer who will be providing ingredients to the brewery. Their hope is to supply all their ingredients from the farms, but the unpredictability of barley farming has them hedging their bets on that front. The brand new brewery on the edge of town is fresh, bright and the decor fits the town feel. The beer, right now a golden ale, a  honey blonde ale, a brown ale, and an IPA, are all careful in their execution. You can tell they are still trying to feel out what Ponokans are looking for in a local beer. I fully expect they will branch out in the coming months as they catch their feet.
Four breweries with very different branding and very different approaches. What I observe is each trying to chart a unique course. Zero Issue is quickly distinguishing itself with its clear themes. Annex Ales, on the other hand, is aiming for in-the-know popularity, while Caravel has broader ambitions. Meanwhile Siding 14 balances introducing themselves to a rural local market while still appealing to beer drinkers around the province. Each has a unique feel and the beer seem to match.
For me that is kind of cool – seeing how breweries link their branding with their product. I am well aware the beer itself will shift over the next year or so – as it should be – but even right at their beginnings I can tell each is going a different direction. Which, for the consumer, is nothing but good.