I am in Calgary for a couple of days for some work stuff. As usual I am trying to find some time to do a little bit of beer stuff while I am here (hopefully more on that soon). Yesterday I dropped by the new Mill Street Brewpub that recently opened on 17 Ave SW.
There was no debate regarding whether I should give it a try or not – I feel quite strongly it is important to visit every new establishment at least once to get a sense of the place. It was after finishing my flight of in-house made beer that I started contemplating how I should view this new entrant to the Alberta beer scene. That contemplating, of course, led me to a broader reflection on Mill Street's position in the Canadian craft beer world since its purchase by AB-Inbev, the world's largest beer corporation.
But allow me to take a step back. The brewpub. I have now been to all of the Mill Street Brewpubs (Toronto, Ottawa, St. John's, Calgary and  Pearson Airport – the latter of which isn't really a brewpub). Other than the St. John's location, which is bizarrely sharing the space with beer hall chain Bier Markt creating a very disjointed experience, all of the pubs follow a similar approach. All are situated in an older building with some history attached to it. The Calgary pub is located in the 1920s era Costigan House (with a more modern annex).
The decor and atmosphere are fairly similar across locations as well. Lots of muted greys, brick and wood that create a subdued but relaxed ambience. The historic buildings are cool but I am left feeling like the interiors are a bit generic.
As for the beer, the Calgary pub had 24 on tap, split equally between brewery core brands and beer made on-site. One frustration was that I had to work too hard to determine which were which and finally requested that the server walk me through the list. This was important to me as I wanted to see what the local brewers were producing. My flight included the hefeweizen, the latest IPA, the double IPA and the Bock (which I interpret to be a Maibock).
I won't review the individual beer here – suffice it to say they were cleanly brewed but uneven in terms of bringing out interesting flavours. Some were quite pleasant, while others had me hoping they had put a little more courage into the recipe. My overall impression was that the locally brewed beer didn't seem all that different from Mill Street's regular offerings or what I have sampled in other locations for that matter. That is not a criticism, per se, just more of an observation. I appreciate Calgary has only been open a short while and the brewers are likely still catching their feet on the system, but I was left with a niggling suspicion that some of that lack of distinctiveness across locations might be by design.
Judged in the context of a local brewpub, it offers me enough that I might drop by once in a while if in the area and the mood strikes me but it wouldn't become a regular go-to place for me. Fair enough.
However, I don't know if I can simply judge it in that context. Mill Street, for better or for worse, is now part of the largest beer empire in the world. I have not seen any evidence of the corporates meddling with the beer, at least not yet. But the consequences of their ownership sticks with me like a harsh astringency lingers across the roof of my mouth.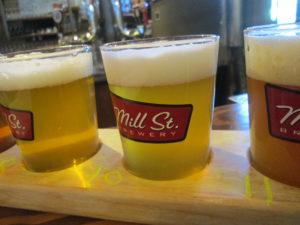 I find myself with two contradictory sets of expectations. Part of me expects more from them. With all the resources, money and expertise Mill Street can now tap into, shouldn't the operation stand-out more? Shouldn't the decor be a bit more original and the beer just that much more interesting? Isn't that the point of selling into such a large company?
Then the other part of me can't help but be a bit distrustful. With the locally owned Trolley 5 brewing beer just a few blocks away and a growing cadre of small local breweries peppering the Calgary scene I wonder if my money (and time) are better spent hanging out in places where I can get truly local beer? I know the Mill Street beer is brewed locally as well (or at least half the list) and the brewers are part of the Calgary beer scene, but they answer to an entire different set of interests than do the local brewers. And, for me at least, that makes a difference.
What makes my dilemma even harder is that over the years I have appreciated Mill Street. Their Tankhouse Ale is an excellent pale ale, and I have developed a great deal of respect for Brewmaster Joel Manning and some of the things he has tried to do (their Don Valley Bench a few years bac, which attempted to emulate an unoaked chardonnay was a masterstroke in brewing subtlety). Does the fact their paycheques now come from ABInbev change that? I don't know.
What I do know is that my visit to the Calgary Mill Street was complicated. It stirred up many questions, most of which I don't have easy answers for. And that, my friends, is the dilemma of Mill Street.