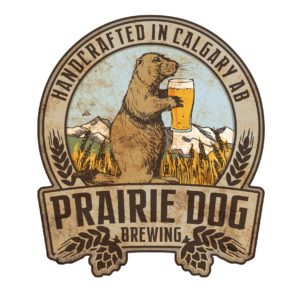 Calgary is about to have a new brewpub, even if they don't know it yet.
Prairie Dog Brewing Company is working on building a destination brewpub near the downtown core. It is the creature of four partners, Gerad Coles, Tyler Potter, Laura Coles and Sarah Goertzen. Two are longtime Albertans (the Coles) and two are from Ontario. And they met in California. Recently I had a chance to have a chat with Gerad Coles about what they are building.
Coles says he and his partner Laura were in California working in the expansive IT world there. Coles is a lifetime Calgarian but moved for his work. "I am a Jack-of-All-Trades computer guy. I do website stuff, infrastructure, integration. I worked at Istock Photo and there simply is not a lot of that kind of work work here, so we moved down," he acknowledges. A combination of life changes (baby!) and the company being bought out by a larger corporation led Coles to rethink their strategy. "I was feeling done with IT."
The good news is he had a hobby that might be a good future career. "I had been brewing at home for awhile. I realized I enjoyed working with my hands and coming out with a tangible product people could enjoy socially."
So they moved back to Calgary and started thinking about what to do next, with a brewery foremost in Coles' mind. "When the mark-up change happened, that is when I decided this is what I wanted to do," Coles says, referring to the decision last year by the Alberta government to alter the mark-up policy to support Alberta beer production (read here for background).
Coles got talking with Potter (and his partner) about the idea of a brewery. "Tyler had been helping me homebrew for a year before we had our conversation about moving up to start brewery." It was a good fit "Has same mindset as me of geeking out on details," and has a passion for brewing. Potter and Goertzen decided to quit their jobs in California and join the Coles in Calgary to work on the brewpub. Potter and Coles will work together on the brewing the beer for the pub.
And their plan really is a brewpub model but with the beer being upfront. "Before I moved to California, my vision of a brewpub was a restaurant that sold beer. It was not clear they were making their own beer. That is not my vision of a brewpub," he says. "We want them seeing us, have the brewers chatting with people about the beer."
"We want it to be first and foremost a brewery. We want poeple to come in, see the brewery and watch the brewing, get a sense in brewery first and then have a food menu backing that up with quality and care."
Coles says their model is Russian River Brewing, which is ambitious company. He is not saying they will be Russian River, but admires their approach. "For most of their existence, they avoided distribution. I like the model of shunning distribution and selling the freshest beer possible in a small circle. It is more special and authentic to have people come to the brewery. We want to be a tourist destination."
He adds, "if we have our beer in every liquor store in town there is no incentive to come to the brewpub." Which says a lot about their vision.
Further, they want the pub to be a local gathering place where a wide range of people feel comfortable. "We don't want a place filled with suits there for business meetings or expensing lunches. We want families and a good mix of people, all ages, people who appreciate local food, local business and good beer."
As a brewpub first, they are thinking of a 10hl system, "maybe bigger if it proves to be cost effective," with a 1/2 barrel pilot system. They envision the bulk of the beer being sold on site, with a small percentage selling elsewhere.
Since the beer will be foremost, let's talk about that. "We are looking at 16 taps in total. 4 guest beer or meads and then 12 of our own." Coles says they are contemplating 4-6 staple beer which "will not rotate as much", with the rest being seasonals and  "workshop beer, where we are experimental, trying new recipes or ingredients." they hope to be able to offer something new every week or two.
The approach to the beer will be to facilitate social. "A big part of what we are trying to do is be a place where people come, hangout and talk. We want them to be able to drink two to three pints. That is important."
In terms of styles, their general approach will be "West Coast", but with a nice mix of other things. It includes session beer, traditional English styles and a creative raspberry beer. As they move along they see themselves "moving to stout, porter, IPA, and doing some barrel-aging – although you won't see that for a while since we plan to age for one to three years."
Even though beer is the focus they are spending a lot of attention to the food. Coles says it will be "elevated pub food" but will have an artisanal character. He talks about consciously focusing on beer and food pairing and passionately talks about using high-end methods like Sous-Vide, where the meat is vacuum-packed and submersed in hot water for up to two days. Apparently (I have never tried it) it makes the meat unbelievably tender.
Even when I ask Coles about their long term plans, the answer is very locally focused and committed to high quality, original beer. "We hope to have a established barrel program, bottling off some wild and sour beer and having some success with that," he says. "We want to be involved in community a lot more by that point, participating in festivals and other community events –  junior hockey teams, etc."
Prairie Dog still has a way to go before launching. They are currently negotiating their space and have yet to order their brew equipment. Their current timeline has them offering beer "before Calgary Stampede" next July.
Even if it takes a while, I am pretty sure Calgarians won't be disappointed to see their arrival on the city's beer scene.
[1:30pm: edited to delete reference to longer term plan.]