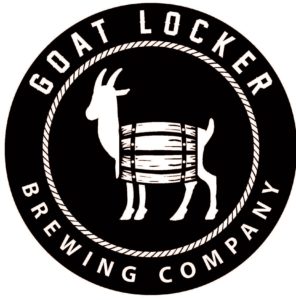 I will admit when I first heard the name, I was perplexed. Goat Locker Brewing is not what I would consider a traditional brewery name. The name initially invokes thoughts of less-than-appealing aromas in confined spaces. Then I read about the origins of the term and it all started to make sense to me. And it appears I am not alone on that front.
Goat Locker is one of the soon-to-be new Calgary breweries. They recently launched their inaugural beer, currently contract brewed at Dead Frog in B.C. while they work on building their own brewery. I had a chance last week to sit down with one of the founders for a chat about what a Goat Locker is, why it makes a good brand and what they want to do for beer consumers in Alberta.
Goat Locker is currently the work of Brett Lovas, Will Tanner and Ryan Kaye. The trio brings an interesting mixture of experience to the project. Goat Locker is the brainchild of Lovas, who has been dreaming of opening a brewery for years and has been quietly planning for the past two years. Lovas is the Academic Chair of Electrical Engineering Technology at SAIT, a job he continues to hold, working on the brewery project on weekends and evenings. He is also a homebrewer and is applying that knowledge to the design of their beer.
Why now? "He watched the market grow in Alberta and realized it was finally receptive enough. He took his nickels and some friends nickels and started scraping together a brewery concept", says Ryan Kaye.
As for Kaye he was Wild Rose Brewing's first sales manager. "When I started it was just me. I learned how to build an Alberta craft beer business", says Kaye."When ready for a change a few years ago there was nowhere else to go". He moved to the oil and gas industry for a while, but never lost his desire to be in beer. With the recent explosion in craft brewing in the province, he saw his chance to jump back and hooked up with Lovas. The third Goatman, Tanner, was a sales rep for Granville Island for a couple of years, and so also brings beer industry knowledge to the table.
For the record, a goat locker is a navy term. Historically, seamen would bring a goat on ocean voyages because, as Kaye tells it "basically it could survive on food scraps and took up no space. They could use it for milk, make cheese and, if needed, eat it". Where they kept the goat became known as the goat locker. They also stored the ship's supply of beer in the same space (as it was cool). Over time the seamen would take to hanging out in the goat locker, sharing beer and stories for a much needed rest. It became a "no officers" zone and thus a safe space for the crew. The term is still in use today, long after goat's were banished from ships. In the lexicon, a goat locker is basically "a drinking space" says Kaye.
Okay, the name starts to make more sense. But why is an Alberta brewery adopting a sea-oriented term? "Brett's grandfather was in the navy and used to tell him stories about it. His grandpa would talk about the goat locker". Plus, Kaye says, Lovas always had a fascination with the sea, despite being a Saskatchewan boy". The name just made sense.
Kaye says as branding the name has worked way better than he ever thought it would. "At first people go 'What?', but when you tie it all together it makes sense and they get it. They respond with things like 'Oh, my basement is a goat locker!' It is great".
"Large companies hire large marketing firms and pay them a lot of money to figure these things out. We are lucky to have pulled off a brand that people can connect to", says Kaye. "When they see the branding, they like it and it makes them want to like the beer".
As for the beer, Goat Locker has started with a Pale Session Ale (at 4.5%) as their flagship. "We consider it full-flavoured but approachable. We knew we wanted something full flavoured but didn't want a beer where people would only have one. We wanted them to enjoy more time with us and have a beer they would have more than one of".
They are planning to release a second year-round beer in the fall, appropriately enough likely a Bock. "It is likely our destiny", says Kaye, pointing out Bock is German for goat. "Nobody makes a Bock. It will be malty, full-flavoured and very German".
Once their brewery opens, which they hope will be spring 2017, they will also do a series of rotating seasonals. The core packaging will be in 473-ml cans (done by the mobile canning company West Coast Canning), but they are considering other options for the seasonals, in addition to keg sales and growler fills.
Plans for the brewery are in the early stages, so Kaye is understandably short on details on that front. However, he says they are looking at a brewhouse in the 10-hl range and a modest tap room that will let customers "hear, smell and see things happening". Any food menu will be simple and straightforward – "we don't want to get sidetracked", notes Kaye "but we will make a few things to make customers happy".
Kaye acknowledges that contract brewing isn't ideal. "It is like cooking in someone else's kitchen. But we talked to some of the guys building a brewery. They went without cash flow for 10 months", which is something Goat Locker didn't want to do. "For a small business to spend six months or more with no cash flow and all those equipment costs – we wouldn't do it". Instead they opted for the Tool Shed model of contracting their beer to generate income and to begin the process of building name recognition. Kaye believes when their brewery is open next year they will be a step or two ahead of the game.
For a brewery with a strange name and no actual brewery (yet), they seem to be making a mark pretty fast. Which in the increasingly (and quickly) crowded Alberta beer market, that is saying something.