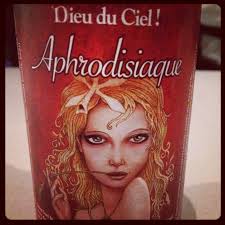 It may have the most hope-inspiring name of all beer names. Aphrodisiaque. The classic and inspired stout from Dieu du Ciel seems to promise more than a beer can normally offer.
Sadly, it can't deliver, at least in that respect. Beer is generally not an aphrodisaque, quite the opposite most of the time. But if you let go of its labelled promises and just appreciate the beer for what it is, I am certain you will get a happy ending nonetheless.
Most beer fans already know Dieu du Ciel and its famous cocoa and vanilla infused stout. But it is a good idea sometime to remind people just how good a beer can beer. I did that recently with my Vue Weekly column (which you can read here). The review of Aphrodisiaque was initially intended to run in the Sex Issue, but due to some technical issues got lost. Instead it ran alone as a standard review in a standard issue.
I am kind of glad it ended up that way. Because despite the obvious links to intimate relations, the review – just like the beer – didn't deliver on the sex front but more than satisfies on the beer front.
This is a beer every dark beer fan should try. It has all the great qualities of a stout with the added bonus of cocoa and vanilla. To me it has flavours of mocha espresso, with a sharp cocoa character mixed with dark roast coffee and some sweeter edges of chocolate and caramel. It isn't too sweet, which would make it too dessert-like, and the cocoa comes across as pleasant rather than too harsh.
As a stout it is quite lovely. As a cocoa-vanilla stout it might be unparalleled. Well worth trying – either for the first time or as a reminder.