Many years ago (1946 to be exact), George Orwell penned an evocative essay entitled "The Moon Under Water". It was essentially an effort to extoll the virtues of his favourite pub, the Moon Under Water. You can read the essay on line (it is not very long) here. For those of you who have not read it, but wish to, either go there now and come back or be warned of a big spoiler later in this post.
A couple of years back I outed myself as a George Orwell geek (a couple of times, actually – here and here). He was a insightful, often disagreeable and profoundly traditional man. The Moon Under Water perfectly reflected his notion of what makes up a good pub – a cozy, welcoming atmosphere with a distinct historical feel, community-oriented and family-friendly, a place where people can talk. It has multiple rooms, each catering to a different crowd. The bartenders know the regulars' names. He even offers fine details about how it is one of the few pubs in England to serve draught stout, in pewter pots too boot.
The essay is finely detailed, exquisitely descriptive and evokes a very clear image of a friendly, welcoming pub that pays attention to detail. Of course (here comes the spoiler), at the end Orwell reveals the pub does not exist. Instead it is a composite of all the things he appreciates in a pub. It would be the pub he would design if he had the chance. (I know there is a brewpub in Victoria of the same name, but it is intended as a tribute to Orwell and his essay.)
This post is actually not about Orwell or even the perfect pub (it is merely an long, rambling introduction). That is because the perfect pub does not exist – as Orwell lamented. I know you know this.
The real purpose of my reflections here is that I spend some time in the last few days in what is MY favourite pub in Canada. I hadn't been there for a few years, and so when finding myself nearby I soaked up the minutes I spent in it.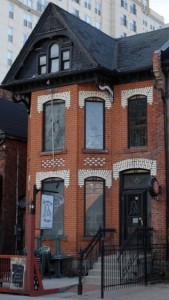 The pub is Augusta's Winking Judge in Hamilton, Ontario. About a decade ago I spent a number of months living in Hammertown while going to McMaster. I discovered the Judge and quickly became a regular, often rewarding myself with a pint or two after spending the day studying. I was back in the area over the past few days to attend a conference. I, of course, made a point of making time to quaff a pint or three at my favourite pub. But this time, knowing my visit would be brief, I found myself contemplating WHY I like the pub so much. Which got me back to Orwell and his essay.
What kind of pub is the Winking Judge? It is situated in a small two-story historical house, and thus offers a old British feel to it. Wood, fireplaces and ornate stained glass stand beside an eclectic collection of historical beer ads, beer paraphernalia and posters for local events. The bar is small, offering only a couple of stools and some space for leaning against the counter.  The lower floor has seating for about 20, with a slightly larger room upstairs. There are two patios, once in the front and one in the back garden. I think you would be lucky if you could ever get 100 people into the place at one time.
There is no table service – beer and a small food menu must be ordered from the bar. One of the three owners is always present. As for the beer, they have a 22 taps, one beer engine and a strict craft brewery only policy. The beer are in constant rotation and dominated by Ontario craft brewers, although there is always a smattering of Quebec and British independents (like Fullers) and the occasional Belgian.
Other pubs can rival the Judge for historical appearance (Halifax's Henry House for example). Many pubs offer more and possibly more carefully designed tap menus. The Judge can't touch any of Alberta's recent mega-craft bars in terms of both breadth and depth of selection. I also suspect there are dozens of places across Britain and the U.S. that match it. To me it makes no matter.
So, why do I love it? To steal what Orwell reluctantly summarized as "what people call its 'atmosphere'." It is the people, the welcoming spirit, the low-key convivial approach to sipping pints and relaxed visiting. Like The Moon Under Water, the Judge's "clientele, though fairly large, consists mostly of 'regulars' who occupy the same chair every evening and go there for conversation as much as for the beer." The most senior patrons have their own mug (which they supply) hanging above the bar. The owners seem to know everybody personally. There are no televisions (with the exception of during Hamilton Tiger Cat games), and evenings often find local acts playing quietly in one corner of the room.
From the first time I plunked my elbow on the bar, I felt welcome. Regulars readily and happily included me in their conversations. One time a table of afternoon regulars, without provocation, insisted I learn to play pinochle (declining was not an option). One my second visit, one of the owners invited me to join him on a trip south to pick up a couple of kegs for a special event they were holding (I had to decline). There was no rite of initiation, no evidence required that I truly appreciated good beer. They just assumed that from my act of walking in the door. Just like that.
There are no pretensions in this pub – from the pub itself, nor is it tolerated among the clientele. Beer is to be respected but not taken too seriously. It must be of the highest quality, but snooty affectations are not to be found. If I felt like visiting, I would stand at the bar and partake in whatever the topic du jour was. However, it was equally acceptable to wander off to one of the small tables with a newspaper or a book tucked under my arm for some quiet downtime.
The Judge isn't perfect. Nothing is. But of all the pubs I have entered across this country, this one comes closest to my Moon Under Water. And it was a rare and carefully savoured pleasure to walk through its narrow doors again this past week.