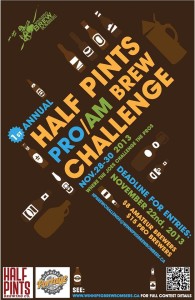 A quick news round-up to pick up some announcements that either I missed in my last news update or have come out since that post. In no particular order:
Half Pints Brewing is teaming up with the Winnipeg Brew Bombers Homebrew Club (what a great name for a beer club…) for a truly original beer competition. The 1st Annual Half Pints Pro-Am Brew Challenge, in what I believe is a first for Canada, invites both homebrewers and commercial brewers to submit entries and compete alongside one another. Yes, your humble bottle of homebrew will face off head-to-head with some of the best professional craft beer in Canada. A very cool concept. Entries are due November 22, with judging occuring between November 28 and 30.More information can be found on the Brew Bombers' website and entry forms will appear by the end of September. So get brewing and see if your beer stocks up against a pro's.
In further Half Pints news, the latest release of their Oktoberfest is this coming Saturday, September 21. Phil's Pils is also currently available. No word yet (mostly because I haven't asked) on whether they plan to also release the smoked and pumpkin versions they put out last year.
Yukon Brewing are making some changes to their line-up. First, they have released their next A.D.D. Series beer, which will be in stores in the coming days, is a Pumpkin Spiced Ale, just in time for the pumpkin beer season. They also announced that this will be the last in the A.D.D. Series, as they are discontinuing it. They plan on revamping their approach to seasonals, so rest assured we will continue to see new product from them. Along that line, The Dark Side mixed six-pack is coming back for a second year. The pack, which contains Yukon's dark beer, was a popular item last year. Finally, they have announced that they are pulling Discovery Ale off the Alberta market and replacing it with Bonanza Brown. Bonanza was avaiilable last year only in the Dark Side mixer. It is still in the mixed pack, but will now be available in six-packs on its own.
The latest Alley Kat Dragon Series beer will be released October 1. Maroon Dragon is brewed exclusively with centennial hops. They will be hosting a launch party at the brewery on October 3.
Hog's Head has just announced the opening of their Tap Room at the brewery (#16 Rayborn Crescent, Saint Albert). Much like Wildrose's Tap Room in Calgary, it will be a small space to allow people to sip on pints of Hog's Head beer and for special events. For now it will be open Thursdays, Fridays and Saturdays from 11:00am to 6:00pm, with options for groups to rent the space during other times.
Finally, Craft Beer Importers have announced their second annual Beer Advent Calendar. This year the calendar will highlight North American Craft Breweries. The choice to go with Canadian and U.S. breweries (plus one Mexican) means the beer more likely this year will be fresher, as it doesn't have to cross the big pond (last year's were all European beer).
That's all he wrote for now. More as events warrant.