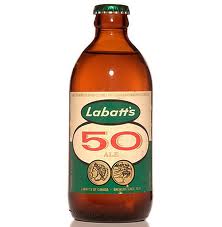 I, it seems, have developed a reputation among Edmonton beer people as "the stubby guy". And, no, it is not a reference to my diminutive height (or other things). It is because I am rather obsessive about stubby beer bottles.
You see, I adore stubbies. I believe they are the perfectly designed beer bottle, especially for homebrew (which I explain below). Plus I just like them. Always have. I have dozens of them and they serve as the anchor bottles to store my homebrew. I just really, really like them.
And I want to explain why.
First a short history. The stubby (see photo for those of you too young to know what a stubby is) was introduced in 1961 by the Dominion Brewers' Association (now Brewers' Association of Canada). That association was (and still is) the industry group for the big corporate brewers in Canada. They concocted a plan to replace the myriad of bottle shapes and sizes that scattered the Canadian beer landscape at the time, which was costly, ineffective and wasteful, with a single, industry-standard bottle that they would all use. The squat, rounded design of the bottle was chosen because it was both lighter and sturdier and was easily stack-able. It was introduced among all the breweries on a single day – March 1, 1962 – and for more than twenty years is was the only way to purchased bottled beer.
The stubby met its demise in 1984, when, under pressure from growing import sales from the U.S., the big brewers adopted a long neck bottle (which most U.S. beer was bottled in). After a few variations it turned into the industry standard bottle we see today. The stubby, without its institutional support, quickly disappeared. It lingered for a few years among small brewers, such as the original Drummond Brewing in Red Deer, but eventually became extinct. Today it is only found  – in an adulterated, screw top form – holding a couple of beer. All I have seen is Brick's re-creation of Red Cap and Red Stripe.
Most of the stubbies I own were last packaged as Drummond products (probably an Alberta anomaly). I have removed the labels but keep many of them in their original "Drummond Lager" and "Beer Beer" cases. The boxes remain useful because modern boxes don't fit stubbies. For the record, I refuse the new screw-top stubbies, as that just feels wrong.
So, why do I think this archaic, obsolete bottle is so amazing? Let me give you five reasons:
 It is the perfect homebrew pour. Really. I have tested it out. The angle on the curve leading to the neck is ideal for capturing the sediment from a bottle-conditioned beer while maximizing the volume of sediment-free beer reaching the glass. The longneck allows too much sediment too early. To be clear, I am not anti-sediment, but I want to present my beer in the best possible fashion, which means leaving the sediment behind. I often swirl and drink the sediment later – for the B vitamins.
It was the first environmental beer bottle. Most Canadians don't realize we are unique among countries for having a sophisticated system of beer bottle re-use. The main advantage of the industry standard bottle is that rather than crush it and make something new, you can simply wash it, re-sanitize it and put more beer in it. Canadian beer bottles are used, on average, 15-20 times (according to the Brewers' Association of Canada). In the U.S. most bottles are crushed, melted and re-formed into new products, a much more energy-intensive and wasteful process. The stubby had the same advantage. I love thinking as I package my latest batch that the bottle I am using has probably seen 40-70 beer in its lifetime (counting the 10-20 times I have used the bottle). I also get a kick knowing that the bottle might have been produced in the early sixties and is still doing its job.
It is a symbol of Canada. The stubby is a Canadian creation. I don't need to expand on this – as most of you already know it. But there is something cool about drinking beer from a bottle created, produced and used in Canada exclusively. No other nation adopted the stubby, so it is uniquely ours.
It really is stronger and easier to store. The 1960s designers were right. It is more durable and resilient than the long neck. I occasionally break a long neck during the bottling process, as stress on the neck causes cracks. I have never, not once, broken a stubby during bottling. The damned things can even take a fall from a counter top. The compact design provides strength, while its short, stocky shape makes it easy to stack on a shelf.
They are a great conversation piece. I love taking stubbies to parties. Canadians are nostalgic about stubbies. They see it as a representation of an age lost. I realize stubbies aren't that (they are a corporate creation, just like the current industry standard), but I always get into an interesting conversation about the bottle. If I were single, I suspect it might even get me a date or two.
Be careful not to over-simplify my point. I appreciate a number of beer bottles. For example, I am a big fan of swing-top bottles, especially the 1-litre size (thank you Howe Sound and, formerly, Yukon) for my homebrew. And the glass can be more important, since that is what you actually drink the beer from.
However, I think I have good reason to love the stubby. And hopefully this article has led you to feel more kindly towards it than before.
But if that is not the case, I will happily relieve you of any excess stubbies you happen to have lying around.